Reading in the news - Fri 18 Sep
18 September 2020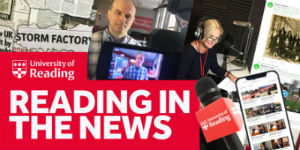 #WeAreTogether: Reading's work to tackle the coronavirus crisis. Read our round-up.
Yahoo News mentions the recent Reading study showing female leaders saw fewer Covid-19 deaths in their countries, in an article on praise for Angela Merkel's approach to the crisis. Read our news story.

Professor Parveen Yaqoob, Deputy Vice-Chancellor, spoke to BBC South news on BBC Breakfast on BBC One this morning about a new testing site the University is in discussions about opening on campus. BBC Radio Berkshire visited campus to speak to Dr Paddy Bullard, Director of Student Services, about the work that has taken place over the summer to prepare for students returning to campus. They also interviewed some students about their roles during Welcome Week and their feelings about their own studies.
COVID-19: expert comment on the coronavirus pandemic
Dr Simon Clarke (Biological Sciences) is quoted by New Scientist on the rising infection rate; Daily Mail, Express Informer and Amed Post on whether we're seeing a second wave; Huffington Post on the most and least risky activities for spreading the infection; and One News Page on face mask hygiene. He was interviewed by talkRADIO and BBC Hereford and Worcestershire.
Professor Ian Jones (Biological Sciences) is quoted by the Daily Mail and Daily Star Post on the stoppage in the Oxford vaccine trials.
Other coverage