Reading in the news - Mon 21 Sep
21 September 2020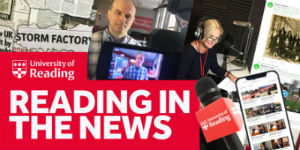 #WeAreTogether: Reading's work to tackle the coronavirus crisis. Read our round-up.
Dr Paddy Woodman (Director of Student Services) and Professor Parveen Yaqoob (Deputy Vice-Chancellor) spoke to BBC South about preparations for the start of term amid the pandemic. Professor Yaqoob also spoke to ITV Meridian and BBC Radio Berkshire about the University seeking to open a testing unit on site and is quoted by the Reading Chronicle.

R

everend Mark Laynesmith (Anglican Chaplain) spoke to BBC Radio Berkshire about how the chaplaincy will support students in managing the stress of starting university during a pandemic.
COVID-19: expert comment on the coronavirus pandemic
Dr Simon Clarke (Biological Sciences) spoke to Sky News, France24 (and again on Sunday), CGTN, LBC Radio, Heart Berkshire and talkRADIO. He is quoted by New Scientist, the Telegraph, Sunday Express and Yahoo News on a potential second lockdown, MSN News on the likelihood of a winter spike.
Professor Moira Clark (Henley Business School) is quoted in the Observer, Personnel Today, MSN News and Yahoo News on the decision by John Lewis to scrap its staff bonus due to the Pandemic.
Solar storm forecasts: A Reading study led by Dr Luke Barnard (Meteorology) combining volunteer observations collected during the Reading-led Solar Stormwatch project with a new solar wind model to improve predictions of when coronal mass ejections will hit Earth is reported by Mail Online, iPaper, Inverse, Science Daily, Space Daily, Phys.org, Aol, UPI and Yahoo News and more than 150 regional publications, including the Reading Chronicle. Read our news story and watch a video about the study here.
Rankings rise: BBC Radio Berkshire report Reading's rise in the Times and Sunday Times Good University Guide league table. Read our news story.
Other coverage
Financial Times mentions The MERL's twitter account in an article about presenting art in more accessible ways.

BBC Radio 4 quotes former Reading lecturer Norman Cowell (Food and Nutritional Sciences) on the history of using tin cans to store food.

The Sun and Mysterious Universe quote Professor Chris Scott (Meteorology) on the possibility that a solar flare might have contributed to the sinking of the Titanic.
Neuro News reports on the British Heart Foundation-funded research at Reading into personalised stroke and heart disease treatments. Read our news story.

The Telegraph reports on a joint Reading and Royal Horticultural Society study showing ivy is the best plant cover for cooling buildings.

A London School of Economics blog co-written by Dr Daphne Halikiopoulou (Politics and International Relations) argues that economic concerns are more prominent among far-right voters than is often realised.
Professor Rajneesh Narula (Henley Business School) is quoted by Xinhua Net on the disagreement in the UK government over the Internal Market Bill and overriding the Brexit agreement with the European Union.