Minister sees University's campus preparations to tackle COVID
21 September 2020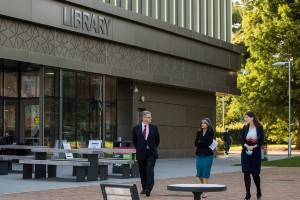 The Universities Minister visited Reading this morning (Monday 21 September) to find out how the University of Reading is preparing to safely start the new academic year.
Michelle Donelan MP, Minister of State for Universities at the Department of Education, asked to visit Reading to see the extensive preparations the University has made to begin teaching again, while keeping students, staff and the local community as safe as possible from transmission of Covid-19.
On the first day of Welcome Week, when new students enrol on courses and find out about life on campus in a socially-distanced manner, Ms Donelan visited laboratories, saw how academics are creating online lectures, and visited socially-distanced venues in the students' union to allow students to socialise while lowering risks of transmission.
Professor Robert Van de Noort, Vice-Chancellor of the University of Reading, said: "We were very grateful to the Universities Minister for visiting Reading today, giving us the opportunity to show her the widespread adaptations we have made across university life, while maintaining our focus on teaching and research excellence.
"The Minister was impressed with the many innovative safety measures we have put in place, and also expressed her gratitude to the hundreds of Reading students and academics who have been working directly or indirectly to tackle the coronavirus crisis, as we have shown through the 'We Are Together' campaign."
The University of Reading has been working for months to prepare the campus for the start of the new academic year.
New systems include creating student 'household groups' in which students can live and socialise, adapting timetables to move large lectures and classes online, and introducing a mix of socially distanced face-to-face teaching with digital methods. There will also be robust systems to encourage students to stick to the rules, whether on or off campus.
Other measures include installing more than 600 new hand sanitising stations, installing one-way systems in scores of buildings, producing and installing thousands of new safety and instruction signs, and adapting teaching rooms and catering venues to be used in a socially-distanced way.
For example, the Reading University Students' Union (RUSU) has converted its largest venue from a 1,500-capacity nightclub into a spacious, table-service café-bar, where students can socialise within their small household groups, in groups of six or fewer.
Professor Van de Noort added: "I am very proud of the way our students and colleagues have risen to the challenge of coronavirus so far, but we are reminded by the recent uptick in transmission rates across the UK that there is still more work for us all to do.
"We understand there is some concern among local people that student populations could lead to local outbreaks of Covid-19, which is why we are working closely with partners in the NHS, government, councils and police and doing all we can to reduce risks.
"The University has made an enormous contribution to the global fight against Covid-19, and I will do everything possible to make sure we continue making progress."
At the University of Reading, #WeAreTogether to beat Covid-19. See what we are doing to tackle the coronavirus.
L/R: Vice Chancellor Prof Robert Van de Noort; Deputy-Vice-Chancellor Prof Parveen Yaqoob; and Universities Minister Michelle Donelan MP on the Whiteknights campus