Reading in the news - Tue 22 Sep
22 September 2020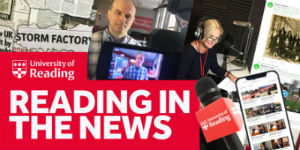 #WeAreTogether: Reading's work to tackle the coronavirus crisis. Read our round-up.
The new testing site the University hopes to open on campus is reported by Berkshire Live and UKNIP.
Research by Dr Jane Parker (Food and Nutritional Sciences) into the loss of smell as a symptom of Covid-19 is mentioned in a Smithsonian Magazine article about distorted smells some patients are experiencing after having the disease. Read our news story.
Newsweek and MSN News+ report on research led by Professor Uma Kambhampati (Economics) showing female leaders saw fewer Covid-19 deaths in their countries this spring. Read our news story.

Dr Al Edwards (Pharmacy) spoke to BBC Radio Berkshire about changes to teaching this term due to the coronavirus.

Professor Helen Dodd (Psychology) spoke to BBC Radio Berkshire about how children are affected in various ways by the pandemic. Read Professor Dodd's article for the Conversation on the importance of play in helping children overcome anxious times.
COVID-19: expert comment on the coronavirus pandemic
Toxic products: Emeritus Professor Philippa Darbre (Biological Sciences) is quoted by Mail Online, about the harm products like antiperspirant might be doing to our bodies.
Other coverage
University Business reports on the Cine Valley creative media and film hub proposed at the University's Thames Valley Science Park. Read our news story.

BBC Hereford and Worcestershire interviewed Professor Elizabeth Robinson (Economics) about Prince Charles' statement on Monday on the importance of taking action on climate change.

Matthew White (Director of Campus Commerce) writes for University Business on his tenure as chairman of The University Caterers Organisation ending after four years.
Free Code Camp lists Reading's Supporting Successful Learning in Primary School online course as one of the best free online courses of all time.