Reading in the news - Wed 23 Sep
23 September 2020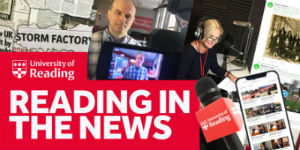 COVID-19: expert comment on the coronavirus pandemic
Newsweek, Mail Online, Evening Standard, Yahoo! News and around a hundred regional titles quote Dr Simon Clarke (Biological Sciences) about a new study on numbers of asymptomatic patients.
Dr Clarke spoke to Sky News on Monday following the presentation by Chief Scientific and Medical Officers. He was also interviewed by ITV News at Ten, Russian Today, BBC South Today, and BBC Radio Coventry and Warwickshire.
Mail Online include comments by Dr Rachel McCloy (Psychology) about the announcement of curfews which will see pubs and restaurants close at 10pm.
#WeAreTogether: Reading's work to tackle the coronavirus crisis. Read our round-up.
Sky News spoke to the Chloe Fleming, President of RUSU's Politics and International Relations Society about how changes due to the pandemic have resulted in a different start of the academic year.
Further mention of a new testing site the University hopes to open on campus is mentioned on Heart Berkshire.
Weather in the classroom: An article in Times Educational Supplement about how the weather can be a useful topic for primary teaching includes a mention of a partnership between children's author Nicola Davies and Professor Ed Hawkins (Meteorology) to produce poetry about extreme weather.
Other coverage