Reading in the news - Thu 24 Sep
24 September 2020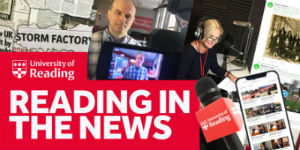 COVID-19: expert comment on the coronavirus pandemic
Dr Simon Clarke (Biological Sciences) featured in ITV News at Ten discussing the new 10pm curfew on pubs and is quoted in BBC Science Focus on asymptomatic cases; in The Express and regional outlets (PA story) on the sharp rise in Covid cases; and in this CNN Indonesia article on activities that are most at risk of Covid-19 transmission.
Newsweek quotes Prof Ian Jones (Biological Sciences) in an article about claims dengue fever can help protect against Covid-19. The article is reproduced on MSN.com.
Dr Rachel McCloy (Psychology) was interviewed on Good Morning Britain discussing the government's new contact-tracing app and is quoted in The Huffington Post and Yahoo Canada about the potential for a second lockdown in England.
Phone healthcare: Medical Xpress reports on a study Reading researchers were involved in which found that the poorest communities around the world could suffer from worsening health as mobile phones become more relied upon for access to healthcare. Read our news story.
Other coverage