Reading in the news - Fri 25 Sep
25 September 2020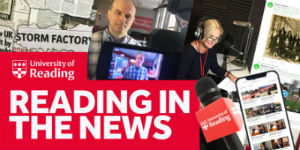 COVID-19: expert comment on the coronavirus pandemic
#WeAreTogether: Reading's work to tackle the coronavirus crisis. Read our round-up.
BBC Berkshire spoke to UoR students about a suggestion that the Government will keep students from returning home for Christmas to avoid mass spreading of COVID-19, and what the University has done for students starting back.
The visit of Universities Minister Michelle Donelan to UoR to see preparations for the new academic year are covered in Reading.co.uk.
The RIBA Journal report on the reopening of schools of Architecture, and spoke to Professor Lorraine Farrelly (Architecture).
US Presidential election: Dr Mark Shanahan (Politics and IR) spoke to CNBC Europe about the upcoming election to decide the next US President. In addition, comments by Prof Kate Williams (History) appear in a Newsweek article about calls for Prince Harry to leave the line of succession following comments by the Duchess and Duke of Sussex about the US Presidential election.
Transgender Recognition Act: The Economist and Jewish Chronicle report on the a decision by the UK Government not to change gender recognition legislation, and quotes Professor Rosa Freedman (Law) about greater clarity needed around the proposed new law.
Other coverage
The Daily Express reports on claims by Russia that Venus is 'owned' by them, and quotes Prof James Green (Law).
Further coverage of research on the beneficial effect of ivy on insulating buildings in New Scientist (in print). Dr Tijana Blanusa (Biological Sciences) is quoted.
Commercial News report on a quantum computer company which have leased space at the Thames Valley Science Park.