Reading in the News - Mon 28 Sep
28 September 2020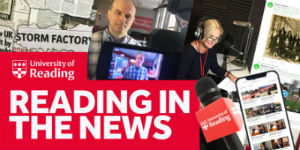 COVID-19: expert comment on the coronavirus pandemic
Dr Simon Clarke Biological Sciences) is quoted in the Telegraph about so-called 'super-spreaders' here and a correlation between low birth weights and likelihood of having serious symptoms here.
Dr Clarke is also quoted in a number of American regional titles including the Herald about an expected rise in deaths in the USA; in MSN news about the effect of winter on COVID-transmission; a Mail Online story about a food factory worker who is suspected to have died from COVID-19; and further coverage of comments about a 'zero-COVID' strategy to reduce and manage infections in BBC Science Focus.
LBC spoke to Dr Clarke, and Russia Today played further clips from an interview wabout vaccine trials for COVID-19.
Professor Ian Jones (Biological Sciences) comments on the potential use of diagnostic dogs to test for COVID, in the Guardian, and in The Times article about preparing for increasing measures over the winter to reduce transmission.
#WeAreTogether: Reading's work to tackle the coronavirus crisis. Read our round-up.
BBC Radio 4's Today Programme (approx. 2hrs 54 mins) read a statement from the University of Reading about blended learning and how students are free to spend time out of halls unless they are quarantining or self-isolating.
Berkshire Live report on COVID-19 cases around the county, and the article notes that UoR is working to set up a walk-in testing centre on campus.
The Rev'd Mark Laynesmith spoke to BBC Berkshire about the support that the Chaplaincy offers to students.
ECMWF: The Guardian report on concerns over the future location of the European Centre for Medium-range Weather Forecasting (ECMWF) currently based in Reading, due to Brexit. The article notes the ECMWF's proximity to the University of Reading.
Other coverage
Professor Rosa Freedman (Law) appeared on a podcast for China Plus about the 75th anniversary of the United Nations.
Dr Miriam Marra (Henley) is quoted in a piece by The Independent (in print and online) about the effects a four-day week could have on the economy. The piece also mentions Henley Business School's research into the subject.
New research to more accurately predict space weather is covered in AccuWeather, and quotes lead author Luke Barnard. Read our news story here.
ABC News Australia interviewed Louise Adler, former UoR student who is a prominent figure in Australian publishing.
An interview by Dr Mark Shanahan (Politics and IR ) with CNBC Europe about the upcoming election to decide the next US President appears on their news site.
The Tab report on consent training for new students, and mentions the work UoR does with RUSU to provide consent information for all new starters.

Newbury Weekly News (in print) report on funding for a data analytics project between UoR, the Royal Berkshire Hospital and NHSX to look at ulcers.

Lincolnshire FM covers a new project to create the first fully automated farm unit, involving Dr David Rose (Agriculture). Read our news story about the project here.
Further coverage of a quantum computer company which have leased space at the Thames Valley Science Park, in the Business Magazine and Business and Innovation Magazine.
Former UoR academic Dr Diane Wray-Cahen is interviewed in Good Fruit and Vegetables about the role of genome editing in tackling agricultural challenges.
Henley Standard report on a toad conservation film that features volunteers who help amphibians safely get across a busy road near to the HBS Greenlands campus.