Reading in the news - Tue 29 Sep
29 September 2020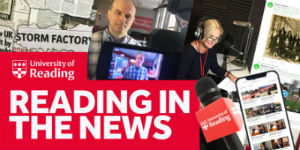 COVID-19: expert comment on the coronavirus pandemic
Dr Simon Clarke (Biological Sciences) is quoted by New Scientist on the infection risk to travellers; LBC Radio, Yahoo News and MSN News on the 10pm curfew; BBC Radio Hereford and Worcester about a new, faster test due to be rolled out; and Medscape on the importance of self-isolation.
Professor Ian Jones (Biological Sciences) is quoted by Mail Online on the progress towards developing a Covid-19 vaccine.
#WeAreTogether: Reading's work to tackle the coronavirus crisis. Read our round-up.
Wokingham Paper reports the funding award for a study of patient data at Royal Berkshire Hospital, which involves University of Reading researchers.
Berkshire Live and BBC Radio Berkshire report that a student at Reading has tested positive for Covid-19, and how the university is working with the health authorities. Professor Parveen Yaqoob (Deputy Vice-Chancellor) was interviewed on BBC Radio Berkshire.

BBC Radio Berkshire interviewed people in the community about how they feel about students returning to campus, and a student about his views on the safety measures brought in at Reading. They also spoke to another student about how they feel about starting university at this time. The President of the Comedy Society spoke to the show about their experience and dealing with these unfamiliar times. BBC Radio Gloucester also spoke to the parent of a second year Reading student about returning to campus.

BBC Radio 4 read out a correction after interviewing a Reading student, clarifying that teaching will include face-to-face classes. The Mirror quoted the erroneous information from the student's interview.
Mastectomy taboo: The Independent runs an article by Dr Alanna Skuse (English Literature) on the taboo surrounding mastectomies, despite them being performed for hundreds of years.
Other coverage
BBC Radio Berkshire interviewed Dr Luke Barnard (Meteorology) about his research into forecasting space weather.

Heart Radio Berkshire spoke to Dr Mark Shanahan (Politics & International Relations) about the US presidential race.

University Business reports on the CineValley media and film hub planned for the University's Thames Valley Science Park. Read our news story.
Good Housekeeping mentions Reading research showing there are mental health benefits of regular trips to the hairdressers.
Startups.co.uk mentions Henley Business School research into the benefits of a four-day working week. Read Henley's news story.