Reading in the news - Wed 30 Sep
30 September 2020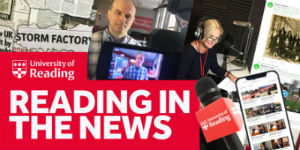 COVID-19: expert comment on the coronavirus pandemic
Dr Simon Clarke (Biological Sciences) is quoted in the lead story in The Times, Daily Mail, and via Press Association in hundreds of media outlets, on the record number of new Covid cases recorded in one day in the UK.
Dr Clarke was interviewed on

Sky News

on universities returning;

BBC Radio 5 Live

on the latest restrictions,

TRT News

on passing the 1million deaths mark; LBC Radio on the developments in coronavirus tests; and

Heart Berkshire

and on

BBC Radio Berkshire

(3 hrs, 18 mins in) on students going home at Christmas.
New Scientist quotes Dr Clarke in its weekly news round-up of Covid news.
The Reading Chronicle quotes Dr Clarke's views on the scientific evidence behind the 10pm curfew.

Dr Tara Pirie (Ecology and Evolutionary Biology) was on

BBC Radio Berkshire

to discuss how COVID-19 is affecting life and work.
#WeAreTogether: Reading's work to tackle the coronavirus crisis. Read our round-up.
Deputy VC Parveen Yaqoob was featured on

BBC Radio Berkshire

throughout the day, following her interview yesterday morning about the confirmed case.

ITV Meridian

and

Magic London

also includes mentions.

Heart Berkshire

reports that Reading students have been reminded about the need to stick to the latest COVID-19 restrictions.
Other coverage
The Naked Scientists publish an interview with Dr Vicky Boult (Meteorology) on mass deaths of elephants in Botswana
Edge (Uganda) mentions Henley Business School Africa's involvement in a new masterclass series.