What's working like for you?
Tuesday, 28 April 2020
The coronavirus lockdown has changed the way we work individually, with our own teams and with other teams at the University. Whether we are working from home or are working on the campus, each of us is adapting in our own way to these changed circumstances. Every Tuesday and Thursday, we will share the experience of some of our colleagues.
Paul Baker is a Technical Manager with Technical Services. His team provides support to teaching by preparing teaching laboratories as well as indirect research support. This includes maintaining apparatus and insect cultures and long-term storage of samples.
We asked Paul how the lockdown had affected his work:
"For our team the biggest challenge has been moving from a role that is majority based in the laboratory to one that essentially isn't. This has given us the opportunity, however, to take care of regulatory paperwork like risk assessments and update standard operating procedures.
"Some of the team are still coming onto campus to maintain very low temperature storage. Certain of our long-term samples have to be stored in liquid nitrogen which boils at -196°C, so needs regular replenishing. Once delivered to site, team members must carefully transport the liquid nitrogen to the various cold storage containers across campus. Team members have also been maintaining insect cultures with regular feeding and cleaning. This ensures continuity of research, particularly as new material can't be collected from abroad at the moment.
"We are missing casual meetings across the team but have been replacing this with meetings via Teams. I'm really proud of how the team has responded to this in embracing the change. Now that everyone is familiar with Teams, I can see this being used in the future. The last few weeks have shown that we can work flexibly and remotely, so it would be good to incorporate this as part of our normal work routine in the future."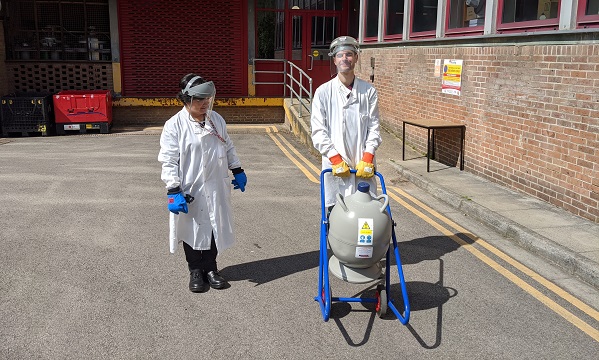 To enable as many people as possible to share their experience the Internal Communications team has developed a storyboard, so if you'd like to take part, contact the Internal Communications team and a member of the team will guide you through the process. These will form a series of articles on what new ways of working have been like for colleagues as well as offering practical advice, hints and tips on how to manage this