Health and Life Sciences building update
Thursday, 23 January 2020
Colleagues who have passed by the site will have noticed changes to the landscape around the building with the installation of the cycle shelter. Progress is being made on the inside too with the installation of laboratory furniture, including benches. The scaffolding has been removed from the central atrium, allowing an appreciation of how this space will be when complete.
Colleagues from the Sustainability Services team were given a guided tour of the Health and Life Sciences building as part of their planning and preparation to understand the services in the new building. The tour covered the central services such as heating and cooling, new laboratory spaces and important supporting infrastructure such as a central repository for ultra-low temperature samples. Energy and Sustainability Manager, Dan Fernbank said:
"It was great for the team to visit the new Health & Life Sciences building. It is an impressive site with state-of-the-art equipment and facilities, including great energy saving features, such as the centralised low temperature freezer facilities that are believed to be a first for a UK university. Once open, we will be monitoring the building closely to ensure it performs as expected and helps reduce our carbon footprint further."
Future updates will include reports on visits with other colleagues and if you would like the opportunity to visit the site please let us know.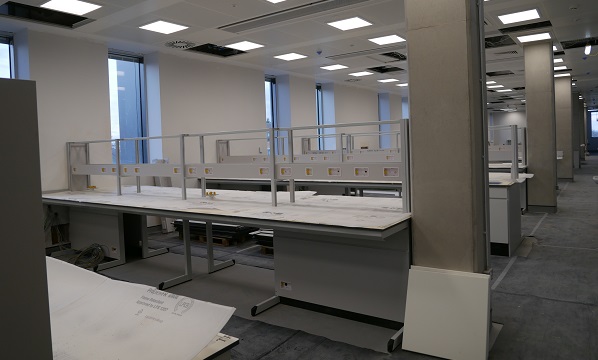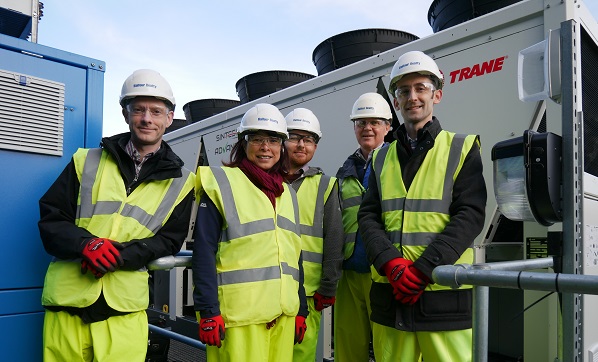 With the interior fit out of the building proceeding with the project should finish as scheduled in mid-2020. The project demonstrates the University commitment with £60m being invested to bring about closer integration of the School of Biological Sciences.