University publishes 2019 Gender Pay Gap Report
Thursday, 19 March 2020
Women have closed the gap in pay compared to men at the University, but our leaders say more needs to be done to reduce inequality.
The University of Reading Gender Pay Gap Report 2019, published this week on the Diversity and Inclusion website, shows the mean difference in pay between men and women for the 12 months to March 2019 fell to 18%, down from 20% the previous year.
The report also highlights that there has been an increase in the proportion of women in the upper pay quartile. The proportion in 2017 was 42%, increasing to 46% in 2018 and increasing again to 49% in 2019. This suggests that more women are progressing their careers and holding more senior positions. As one example, the University Executive Board, which three years ago was entirely male, now has one-quarter female members, with three women having joined the highest level of University management.
Working to close the Gender Pay Gap
The University is working on a range of initiatives to improve the pay gap, including actions to support more women to apply for senior professorial and leadership positions. The proportion of female professors at Reading in 2019 was 35%, up half a percentage point from 2018, against a sector average of 26%.
In the academic year 2018/19, 56% of successful applications for promotion to Associate Professor and Professor were from women, an increase of 3% from 2017/18. 86% of female academic staff who applied for promotion to Professor were successful.
Deputy Vice-Chancellor Professor Parveen Yaqoob said: "We are now in our third year of reporting on our Gender Pay Gap and I am pleased to say that we are definitely moving in the right direction.
"Real change takes time, but it is encouraging to see that we are gradually reducing our gender pay gap. We have ambitious targets in place to improve the gender balance in all our key committees and boards, as well as our senior academic staff, and we are on our way to meeting them. We now have three women on the University Executive Board (UEB), demonstrating that we have come a long way in the last three years. It's also fantastic that the proportion of women in more senior and professorial roles continues to rise.
"As a University we remain committed to diversity and gender equality. We currently hold a bronze Athena SWAN award but are working towards a silver and aim to get all Schools individual recognition within the scheme. Beyond that, we have the Women@Reading staff network and Diversity Champions at UEB level, who identify and raise potential diversity and inclusion-related issues in meetings and discussions across the University."
Reduction in the bonus pay gap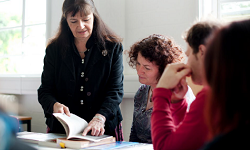 The report also considers the number and value of bonuses awarded to members of staff. The University of Reading operates reward and recognition schemes to encourage, recognise and value the hard work, commitment and achievements of staff who go above and beyond the normal expectations of their role.
Such schemes include the Celebrating Success award, which provides recognition to staff in real-time for a job well done, or for demonstrating the University's values and behaviours, in the form of gift vouchers ranging from £25 to £100 in value.
The mean bonus pay gap for 2019 is 25%, compared with 29% in 2018. The proportion of men and women receiving a bonus have not changed significantly over the past three years. In the 12-month period to 31 March 2019, 662 Celebrating Success Awards were made, 64% of which were awarded to women, and of the 712 Lump Sum Awards made during the same period, 59% were for women.
Comparisons with other universities and organisations is helpful, but the profile of the University's workforce is unique, as a result of the specific practices and profile of employees at Reading. For example, there has been an increase of around 350 staff in the data from 2018 to 2019, which includes students working part-time in temporary and flexible jobs within the University of Reading and recruited through the University's Campus Jobs initiative. Students work in a variety of roles including in the University's many cafés, bars and restaurants, assisting with Visit Days, or as Student Ambassadors.
Additionally, the University of Reading directly employs its own catering, cleaning and portering staff, all of whom benefit from the range of rewards and benefits available to University staff.
Read the full Gender Pay Gap report at: ../files/2019-gender-_pay-gap-report-final