Wishing you a happy Diwali
Friday, 13 November 2020
Saturday 14 November is Diwali, one of the biggest festivals of the Hindu religious calendar – a festival also celebrated by Sikh and Jain communities.
Growing up in India, you didn't need to be religious to enjoy the festival. It was a day to wear new clothes, help decorate the house with terracotta lamps, eat lots of delicious sweets and burst firecrackers. Seeking the blessings of higher powers was left to the grown-ups.
The entire neighbourhood would come alive on Diwali. All houses merged into one as younger and older people streamed in and out of different houses – sharing sweets, gifts, best wishes and firecrackers. There was more than enough to go around and you only stopped when supplies ran out, which was often well past midnight. It did not matter if Diwali was on a weekday or weekend. The enthusiasm for the festival was the same every year.
Over the years, many things changed. Healthier sweets and dried fruits offered an alternative to milk and sugar rich sweets. Candles and string lights came in as alternatives to terracotta lamps. Dinner sets, clocks and even blankets came up as alternative and useful gifts. There was even a cut off time for firecrackers to ensure that children weren't making their way to school through a thick smog next morning. The one thing that did not change was the sense of community during the festival.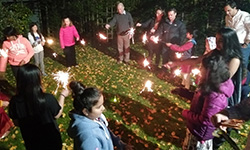 In all my years in the UK, this feeling of community has continued to define the festival for me. Inviting friends over for a pre-Diwali celebration (or multiple pre-Diwali celebrations some years), getting co-workers to sample sweets in the lead-up to the festival and then meeting up with as many close friends on Diwali as possible was the ritual.
This is the first year when we will be celebrating Diwali all by ourselves. There will be sweets, there will be terracotta lamps and candles and there will be firecrackers. The only thing missing will be family and friends. Like much of the socialising in 2020, interactions will be managed over WhatsApp, Hangouts, Facetime and Zoom. Like much of interaction in 2020, most people will hope to meet up "soon" while being acutely aware that "soon" may be months away.
Unlike previous years, many of us with families in other parts of the world have not seen them for over a year. Those with families in the UK may not be able to go home because of the current restrictions.
Does that dampen the spirit in any way? Of course not. Diwali is a festival that celebrates all that is good about human beings and their ability to come together even if they can't be together. When those firecrackers light up the night sky in my neighbourhood – and in neighbourhoods across Reading – it will be a reminder that we are not alone. There are many others celebrating the victory of light over darkness, thankful for what we have and hoping that Diwali will be back to normal next year.
Whether you are celebrating this weekend or not, I wish you and your loved ones a very happy Diwali. May the festival of lights brighten up your weekend and the rest of the year.
(Santosh Sinha works as the Staff Engagement & Internal Communications Manager and is Co-Chair of the University's BAME Staff Network)