Successful completion of the Academic Tutor System project
Thursday, 26 November 2020
Our Academic Tutor System (ATS) Implementation Project has now formally closed, having delivered a step change by moving from what was a reactive, passive deficit 'personal tutoring system' model, to a pro-active Academic Tutor System that supports student and staff engagement with effective tutoring.
Students are now better informed about what to expect from their Academic Tutor, and both students and Academic Tutors are better equipped to identify and source support appropriate to their needs from across the University.
The ATS is empowering our students to make the most of their time at University, engaging fully with their studies, developing essential graduate attributes and fulfilling their potential.
Background
Launched in September 2018, the Academic Tutor System focuses the Academic Tutor/tutee relationship on students' academic, personal and professional development. It is underpinned by six principles which are designed to help us achieve consistency of experience for staff and students:
Equitable access for all taught students
Communication of benefits, roles and responsibilities
Referral to specialist support for pastoral care
Proactive relationships and shared responsibilities
Promotion of student engagement and belonging
Support for academic, personal and professional development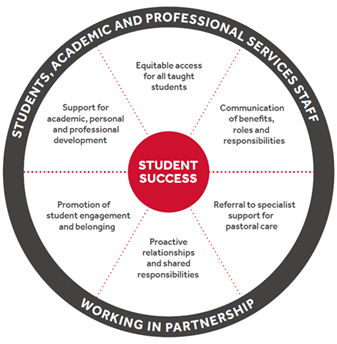 What did we do?
As a University, we have developed the role of School Directors of Academic Tutoring (SDAT), formerly the Senior Tutor role, to provide School leadership of the Academic Tutor System, and agreed a minimum FTE for the role for the first time. The Academic Tutor role was also re-developed with a new job description, to replace personal tutors.
Crucially, as part of the ATS project, we have also invested in our student welfare provision. Our new, dedicated Student Welfare Team provide essential, specialist, professional and consistent welfare support for students, which has released time for SDATs and Academic Tutors.
We have delivered a range of briefings and CPD opportunities to support Academic Tutors and SDATs in developing their practice. In March 2020 we held a mini-conference with a keynote on 'Facilitating students' use of feedback for their academic, personal and professional development'.
Colleagues have said how much they have valued our new range of online and print resources, including:
The combination of our Student Toolkit and the framework is 'levelling the playing field' to engender a sense of belonging and increase access to, and engagement with, the services amongst students from under-represented groups. Through developing students' social and cultural capital, we believe we can improve attainment and retention.
The Academic Tutor System Policy has recently been revised to take account of changes in the quality assurance structure, the adoption of the student progress dashboard and the requirement for SDATs to act as School-level Safeguarding Co-ordinators in accordance with the University's Safeguarding Policy. The sample agendas for Academic Tutor meetings have been updated and now include a sample agenda for colleagues meeting with Foundation Programme tutees.
How did we do?
NSS: Since the introduction of the ATS, we have had the following upticks in the National Student Survey and an analysis of NSS qualitative comments since the ATS was launched, has seen a downward trend in the number of negative comments about Personal Tutors/ Academic Tutors.
| | | | | |
| --- | --- | --- | --- | --- |
| Year of Survey | 2018 | 2019 | 2020 | %age points change 2018-2020 |
| Q12 I have been able to contact staff when I needed to | 85.1% | 86.7% | 86.2% | +1.1 |
| Q13 I have received sufficient advice and guidance in relation to my course | 72.5% | 74.9% | 76.1% | +3.6 |
| Q14 Good advice was available when I needed to make study choices on my course | 67.6% | 69.2% | 71.4% | +3.8 |
UKES: We have also seen an upward trend in positive responses to specific questions about our Academic Tutor System in UKES:
| | | | | |
| --- | --- | --- | --- | --- |
| Year of Survey | 2018 | 2019 | 2020 | %age points change 2018-2020 |
| I can talk to my Academic Tutor about academic issues such as grades, coursework and examinations | 74.1% | 76.6% | 81.4% | +7.3 |
| My Academic Tutor showed interest and provides support in my academic development and progression through university | 60% | 65.9% | 72% | +12 |
| My Academic Tutor signposts me to appropriate support services across the University | 53.1% | 59.0% | 68.0% | +14.9 |
| Overall I have had a positive experience with my Academic Tutor | 66.7% | 70.6% | 78.0% | +11.3 |

Results from the 2020 Survey of Directors of Academic Tutoring, indicated an increase in the percentage of respondents who had seen a shift in emphasis in their role from pastoral to supporting students' academic, personal and professional development (up by 15 percentage points).
Our 2020 Survey of Academic Tutors showed a similar improvement. There was an increase of 5 percentage points in the number of Academic Tutors who met with more than two-thirds of their tutees
Our Academic Tutors report improved confidence in signposting, strong satisfaction with the Student Welfare Team - now firmly embedded into the structure of the University - and familiarity with and use of the ATS resources.
External recognition
Former students and colleagues from the ATS Steering Group have presented our approach at several external conferences including SEDA, UKAT, Advance HE and the QAA. We have had visits from King's College London and the University of Edinburgh to find out more about our approach as well as interest from the University of Bath. Following our presentation at the QAA, we were invited to write a blog, and UKAT tweeted that our work was 'sector leading':
What next?
In our Final Report to UBTLSE (October 2020), we made several recommendations of how to sustain these improvements and an ongoing upwards trend in student satisfaction and engagement with ATS. The Pro-Vice-Chancellors (Education and Student Experience), together with Teaching and Learning Deans and the Academic Development and Enhancement Team, will continue to work in partnership with students, the Directors of Academic Tutoring Community of Practice, Schools and professional services to support the ATS going forward, with oversight from the Committee on Student Experience and Development (CoSED).
Thank you
Our success has been due to the enthusiastic efforts of all those students and colleagues involved in working in partnership to implement the Academic Tutor System. We would like to thank the Access fund (APC committee), for funds to develop the toolkits alongside funding for a dedicated project implementation role.
For further information, please contact Dr Joanna Cordy, Academic Developer in the Academic Development and Enhancement Team, Centre for Quality Support and Development.